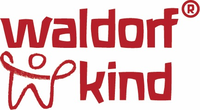 Red Leather Satchel with Horse
---
---
Leather satchels in waldorfkind design
This durable leather satchel is something very special and only available at Waldorfshop. In cooperation with the company Leder-Wolf we have combined the classic satchel for the Waldorf School with a beautiful design: a waldorfkind Original!
The light bio-leather school satchel made of vegetable tanned eco-leather with carrying handle and padded back is ideal for school beginners due to its high carrying comfort. The spacious inside pocket of the satchel as well as the large front pocket can hold all the school supplies for the lessons that students in the first classes of a Waldorf school need. The padded and continuously adjustable back straps are easy to use. Additional protection in the darkness is provided by the light strips attached to the side of the satchel and the two reflector buckles. As a joyful eye-catcher and specially designed by us, there is a horse application on the flap of the satchel. In its timeless simplicity, the motif can enhance your child's joy at the start of school without overpowering the senses.



From the Waldorf Kindergarden to the Waldorf School
With the change from the 1st year seven to the 2nd year seven also the change from the Waldorf kindergarten to the Waldorf School is pending. This is an important and decisive step for children and parents. In the book "This is Waldorf School" by Wolfgang Held or in more detail in "The Education of the Child" by Rudolf Steiner, basic anthroposophical and Waldorf ideas can be read. One Waldorf educational aspect is the great importance attached to the child's environment.  The child's environment has an immediate effect. For this reason, we do not use colours that overflow with stimuli and prefer materials that offer a rich variety of experiences and sensory perception. In this sense, this satchel is perfectly suited for the beginning of the school years.
Material: full-grain cowhide.
Dimensions: 37 x 31 x 12 cm.
Weight: 1500 g.



Handcrafted leather products
Leder-Wolf is a fourth generation family business from Germany. Experienced employees manufacture leather products by hand from selected materials. The traditional company places great value on sustainability. In addition to the economical use of resources, the company pays attention to waste avoidance and exemplary recycling when processing the high-quality leather goods.
Our own brand, waldorfkind, was born out of the impulse to find products that are sensible, sustainable, fairly produced and aesthetically pleasing. Here we can design articles according to our ideas and carry them out into the world in cooperation with manufacturers and artists.
You can find more backpacks and schoolbags here!
| | |
| --- | --- |
| Item ID | 10009955 |
| Age rating | 3 and older |
| Manufacturer | Waldorfkind |
| Weight | 1460 g |
| Dimensions | 390×320×150mm |