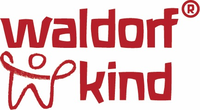 Organic Cotton Roll-up Pouch for 12 Beeswax Stick- and Block Crayons Curry/Cherry
---
---
A Steiner/Waldorf school child's basic equipment includes a roll-up pouch for crayons. A sturdy organic cotton case especially made for storing beeswax block- and stick crayons. They are made in the Kassler BG workshops in wonderfully warm colours. The caryons' bright colours are shown to their best advantage in these wonderful pouches. This pouch offers space for 12 stick- and 12 block crayons each. Thus making sure your child always has their crayons within easy reach.
Available in cherry/blueberry, blueberry/cherry, pine/cherry and curry/cherry. In addition, we also offer a pouch for 16 crayons.
The transition from Kindergarten to Primary School is an important one for both children and parents. In Steiner/Waldorf educational the importance of the child's environment is emphasized. It has an immediate effect on many aspects of a child's experience and feeling of well-being. For this reason, we select colours that are not too intense and prefer materials that offer a rich variety of sensory experiences. Our roll-up pouch  is perfectly suited for the start of primary school.
Material: organic cotton. Size: 56,5 x 18,5 x 1 cm.
Excluding crayons.
Manufactured in Germany
The Kassler BG workshops provide the pupils of the Free Waldorf School Kassel with state-approved, handicraft-technical vocational training. The trainees create products in the wood-, metal- and electrical workshops as well as in the tailoring workshop, for real customer orders. They complete their training with the examination before the Trade Chamber and the Chamber of Industry and Commerce with the reception of the skilled worker certificate. With these vocational training courses in the BG, the Waldorfschule Kassel shows a perspective for the future of today's educational landscape.
| | |
| --- | --- |
| Item ID | 10001487 |
| Age rating | 3 and older |
| Manufacturer | Waldorfkind |
| Weight | 84 g |
| Dimensions | 430×185×10mm |