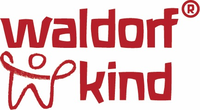 Developed in collaboration with Deuter
---
---
Our Waldorf school backpack is a unique school backpack especially for the Steiner/Waldorf student! 
It was developed in collaboration between waldorfkind and Deuter.
Uniquely designed to hold a roll-up pouch, a flute and eurythmy shoes and with plenty of room for main lesson books and a lunchbox and drinking bottle as well. No more bent or tatty main lesson books! In addition, the Waldorf school backpack comes with a removable seat cushion.
This school backpack offers all the advantages of a "normal" Deuter backpack:
Lightweight, ergonomically shaped, made of water- and dirt-repellent materials, with practical division of compartments, separate compartments for a water bottle and lunch box, easy to handle.
Size: 24 x 29 x 46 cm
Weight: 1500 g
Volume: 28 l
Colour: blue
Ideal from a height of 130 cm
Incl. a separate sitting cushion
You can find more materials especially for Steiner/Waldorf schools in our school supplies category.
Lessons at Steiner/Waldorf Schools
At Steiner/Waldorf Schools, pupils are in the same class for seven to twelve years. The various stages of development can thus take place in a familiar social setting without disruptive transfers. Pupils ideally experience the change to the middle school and later to the upper school together and thus have a constant basis in times of inner change. To experience ones development in such a way that one's very own and individual development can be lived, is immensely important on the path to adulthood. The waldorfkind/Deuter school backpack supports the opportunity to develop one's own style.
Deuter
Deuter is a German manufacturer specialising in the production and sale of backpacks, sleeping bags and other accessories for mountain sports enthusiasts. In addition to occupational health and safety and consumer protection, Deuter also attaches importance to sustainability and environmental protection. Not just the end product is tested according to eco-standards, but all manufacturing processes of the individual components of a product as well.
waldorfkind
Out of the impulse to develop products that are sensible, sustainable, fairly produced and aesthetically pleasing, our own brand waldorfkind was born. It enables us to design articles according to our ideas and Steiner/Waldorf pedagogy and, in cooperation with manufacturers and artists, take them out into the world.
| | |
| --- | --- |
| Item ID | 10011330 |
| Age rating | No age restriction |
| Manufacturer | Waldorfkind |
| Weight | 1500 g |
| Dimensions | 240×290×460mm |