Outside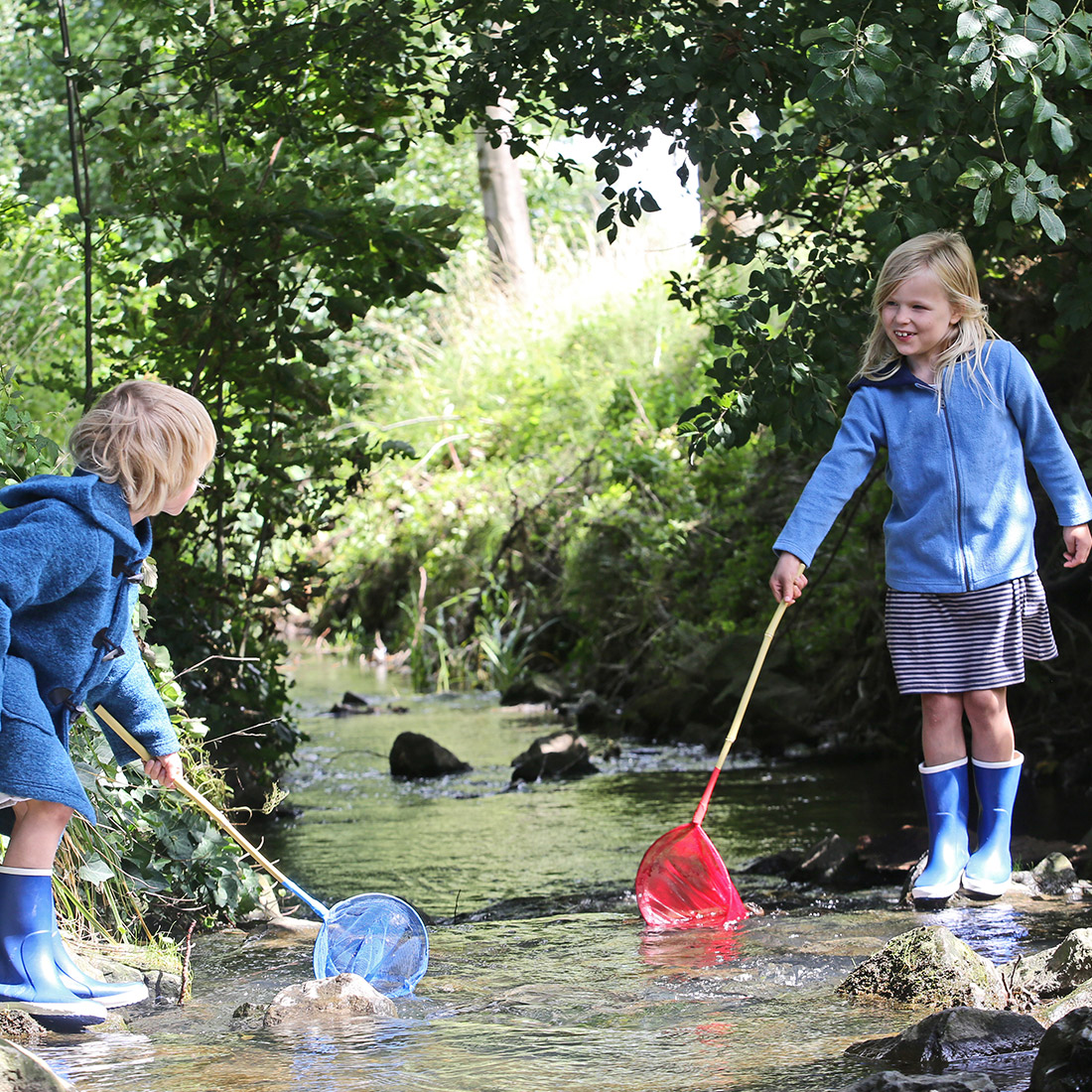 What could be better and more beautiful than playing, hiking, picnicking and experiencing adventures in nature? In Waldorfshop you will find a large selection of useful and sensible companions for the adventure world in nature. In the campfire kitchen you can discover fire bowls, grill grates, waffle irons and everything around cooking & baking on the fire for bread sticks, waffles & co. Hammocks & hanging chairs invite you to relax in nature and also everything for the fun of a forest & meadow day, such as picnic things, play equipment, e.g. ball, skipping rope as well as books for outdoor games can be found in this category!
Cuckoo whistle

Green Woodpecker | Cuckoo Whistle | Made of untreated natural branch wood | From 3 years | 125 x 25 mm

Catamaran kit

SUNNYSUE | Catamaran kit | made of untreated pine wood from non-EU countries, cotton | from 5 or 8 years | dimensions: 18 x 10 x 17.5 cm

 

Not in stock, approx. 1-4 weeks

Carving knife for children

Opinel | carving knife for children | stainless, rounded blade

stainless steel, rounded blade

 

Not in stock, approx. 1-4 weeks

Alder Wooden Bowl

Drewex | Wooden bowl made of alder | Ø 13,5 cm H 5 cm | Food safe oiled

Ø 13,5 cm H 5 cm

Folding saw

Opinel | folding saw | folding saw with beech wood handle | extra sharp 2-sided carbon steel saw blade | dimensions: saw blade 12 cm, handle 16.5 cm

Star Map Craft Kit

AstroMedia | Star chart craft set | Star chart, rotatable | craft set | with valuable tips on operation

Storm lighter

Origin Outdoors | Storm Lighter | Gas Lighter | 1,300 °C | Unfilled

Motif

Wooden cup

Origin Outdoors | Wooden Cup | Oak Kuksa | with leather cord | Dimensions: 15 x 8 x 6 cm. Weight 190 g

15 x 8 x 6 cm

Cherry carving knife

Cherries | Carving knife from Kirschen | Notched knife |19 x 4.5 x 2 cm

Carving knife

Enamel plate, ocean

Origin Outdoors | enamel plate, ocean | flat plate | camping | hiking | Ø 26 x 2,3 cm | 270 g

Ø 26

Ignition steel

AstroMedia | ignition steel | ultimate fire starter | made of 99.95% pure magnesium | for fires even in damp conditions

Solar paper, 14 x 19 cm

AstroMedia | Solar Paper, 14 x 19 cm | 20 sheets | Special paper, development and fixing with tap water. | Contents: 20 sheets | Dimensions: 14 x 19 cm

20 sheet
Being outside!
As the days get warmer and longer, we are drawn to the outdoors. In earlier times, it was quite natural for children to play outside. Today, groups of children are rarely seen romping around on their own. The bigger the world is perceived to be, the smaller the protected free spaces, the greater the need for protection and the fears of parents become. However, this also means that children lose the opportunity to discover the world on their own, unobserved and independent of adults with other children "among themselves".
Outdoor play offers our children many opportunities for development, which is why it is becoming more and more important to create spaces and opportunities for children to immerse themselves in free play outside.
Experience the world with all your senses!
Being outside is healthy! Exercise in the fresh air with lots of space is good for you!
In the Waldorf kindergarten and in the after-school care at Waldorf schools, free play in the garden or on a playground is part of the daily kindergarten routine. At any time of the year, in any weather, the kindergarten children and pupils can experience the outdoors, the elements, the warmth and cold with all their senses. They can dig in the sand and the earth, build caves, climb upwards, dig downwards, experience the seasons and the gardening and incorporate all this into their play. In this way, they experience the world at first hand - the best prerequisite for understanding, respecting and loving nature and thus wanting to protect the environment!
Advantages of outdoor play
Self-confidence is strengthened.

Children are more balanced after playing outside.

Children can give free rein to their urge to move.

Love for the environment and thus the basis for environmental protection can develop.

All motor skills are trained through play and self-perception is refined.

The children experience freedom to create and discover the world for themselves.

Social processes between the children can take place in a completely different way.
Especially in the garden, on the playground or in the countryside, the children can freely pursue their urge to move. All gross motor skills, such as running, building, balancing, hiding, climbing, jumping, etc. can be practised and refined.
Let us give the children these free spaces in which they can romp, romp, talk, play, experiment, discover the unknown, be amazed, experience fear and feel courage together, and offer them as much outdoor space as possible in addition to the time spent indoors and in classrooms. In this way, their basic needs are fulfilled, wonderful childhood memories are created and the overall development of their personality is supported! Therefore, it is up to us, the parents, educators and accompanying adults, to offer the children the possibility of
Being outdoors with Waldorfshop products
We at Waldorfshop want children to spend time outdoors. In addition to our great products from the Outdoors category, you will find many useful & beautiful things about seeds and planting accessories in the Garden category.
We hope you enjoy browsing and discovering!