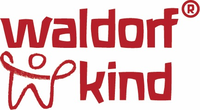 16 roll-up pencil case - blueberry/cherry
---
For storing the wax crayon blocks and wax crayons


Made from organic cotton


56.5 x 18.5 x 1 cm
---
16 roll pencil case - blueberry/cherry, 100 % organic cotton.
A pencil case is part of the basic equipment of every school child at a Waldorf school. This special type of pencil case is intended for storing the wax crayons and crayon blocks. The beautiful fabric/organic cotton pencil cases, sewn in the BG workshops in Kassel, convince with their wonderful and clear colours. The bright colours of the wax crayons and wax blocks can be shown to their best advantage in the pencil cases. The pencil case offers space for 16 wax crayons and wax blocks, which are arranged alternately. In this way, the school child always has the crayons and blocks at hand.
Delivery without contents!
Product information:
100 % organic cotton
Dimensions: 56,5 x 18,5 x 1 cm
Made in Germany
The Rollmäppchen is available in our online shop in the colours cherry/blueberry, pine/curry and curry/cherry. We also offer Rollmäppchen of 12. You can find all Rollmäppchen in the category Mäppchen and Rollmäppchen!
From 1st year screen to 2nd year screen
With the change from the 1st year to the 2nd year, there is also the change from Waldorf kindergarten to Waldorf school. For children and parents this is an important and decisive step. In the book "Das ist Waldorfschule" (This is Waldorf school) by Wolfgang Held or in more detail in "Die Erziehung des Kindes" (The education of the child) by Rudolf Steiner, you can read about anthroposophical and Waldorf basic ideas. One aspect of Waldorf education is the great importance attached to the child's environment. The child's environment has an immediate effect. Therefore, stimulus-flooding colours are avoided and materials that offer a rich variety of experiences and sensory perception are preferred. In this sense, this roll-up pencil case for wax pencils and pads is excellently suited for the beginning of the school years.
The Kassler BG Workshops
The Kassler BG workshops provide the pupils of the Freie Waldorfschule Kassel with state-recognised vocational training in crafts and technology. The trainees produce in the wood, metal and electrical workshops, as well as in the tailoring workshop for real customer orders and complete their training with an examination before the Chamber of Crafts or Chamber of Industry and Commerce with the journeyman's or skilled worker's certificate. With these vocational training courses in the BG, the Waldorf School Kassel shows a perspective for the future of today's educational landscape.